| | |
| --- | --- |
| Position Type: | Contract |
| Location: | London, ON |
| Date Posted: | Apr 22, 2020 |
| Experience: | 2 Years |
| Education: | N/A |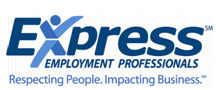 Job Description
Forklift Driver – Straight Days – 17.00 per hour
Express is recruiting for a experienced Forklift Driver for one of our top clients who is on a bus route
3 – 5 month contract with possible permanent hire opportunity.
What is in it for you:
· Full-time hours
· Monday – Friday 8:00a.m. to 6:00p.m.
· Contract to possible permanent hire
· On a bus route
· Great Working Environment
Responsibilities of the job:
· Supplying production line with materials
· Removing finished product pallets off production line and put away into racking
· Ability to operate upright reach and sit-down forklifts
Job Requirements:
· Previous production experience an asset
· Forklift experience required
· Universal Forklift license or recent inhouse license
· CSA approved safety boots/shoes and safety glasses are required.
Why Work for Express:
Express is a leading Staffing provider in the London and surrounding area who has been in business 40 years. The tenure of our internal staff is 10 years, so feel confident that we know what we are doing. Let us be your stepping stone to a new opportunity!
If this position doesn't sound like the right one for you, no problem, we have lots, so be sure and connect with us to learn about what else is available or to share with us what specifically would interest you.
After We've Placed You in Your Dream Job, Remember to Keep in Touch!
To Apply:
Jobs.LondonON@Expresspros. com
Online Application: http://apply.expresspros.com/london
App Store - ExpressJobs
Facebook: https://www.facebook.com/ExpressLondon
Express Employment Professionals is and equal opportunity employer and are committed to fair and equitable recruiting practices. Persons with disabilities are encouraged to come forward at any stage of the recruitment process to request accommodations, if needed. Members of our team will consult and create processes that provide individuals with disabilities the best possible recruitment experience