| | |
| --- | --- |
| Position Type: | Full-time |
| Location: | London, ON |
| Date Posted: | Feb 14, 2020 |
| Experience: | 2 Years |
| Education: | College Diploma (3 years) |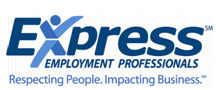 Job Description
We are currently recruiting for a Product Specialist for an evaluation hire opportunity for our client in London, ON! The successful candidate will have an eye for whats on trend and whats up an coming, specifically on social media.  The pay rate for this role is $20.00 per hour.  
Job Requirements:
Providing support to sales representatives 
Build relationships with suppliers
Communicate any special requirements with the warehouse or vendors
Other administrative duties as assigned
The Ideal Candidate:
Previous experience in a Customer Service, with previous merchandising experience preferred 
Proficient with computer, specifically with MS Excel and social media savvy
Strong customer service skills
Professional maturity and strong communication skills
Strong organizational skills with high attention to detail
Why Work for Express:
Express is a leading Staffing provider in the London and surrounding area who has been in business 40 years. The tenure of our internal staff is 10 years, so feel confident that we know what we are doing. Let us be your stepping stone to a new opportunity!
If this position doesn't sound like the right one for you, no problem, we have lots, so be sure and connect with us to learn about what else is available or to share with us what specifically would interest you.
How Can You Apply?
Email your resume to jobs.londonon@expresspros .com with the title "Product Specialist"
Complete an online application at http://apply.expresspros.com
Visit our office at 300 Dundas Street, Suite 200 in London After We've Placed You in Your Dream Job, Remember to Keep in Touch! Visit us on Social Media Platforms: For a complete listing of all open positions, visithttps://www.expresspros.com/londonon/job-openings.aspx
Express Employment Professionals is and equal opportunity employer and are committed to fair and equitable recruiting practices. Persons with disabilities are encouraged to come forward at any stage of the recruitment process to request accommodations, if needed. Members of our team will consult and create processes that provide individuals with disabilities the best possible recruitment experience.