Design Group Staffing, Inteqna, Talentcor, LucasWorks! are now: Agilus Work Solutions™
Tuesday, October 29, 2019 October 24, 2019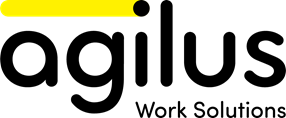 PRESS RELEASE
Media Contact:
Tamara Smith Agilus
VP, Strategic Marketing 905.361.9587
Design Group Staffing Inc. Announces a New Operating Brand
TORONTO, October 24, 2019 – Design Group Staffing Inc. is pleased to announce the rebranding of a number of operating divisions and acquisitions into one brand: Agilus™.
With a combined history spanning more than 43 years, Agilus Work Solutions™ will provide clients and candidates with a wide range of work solutions previously provided through Design Group Staffing, Inteqna, Talentcor, Talentcor Professional, LucasWorks!, Lucas Professional Search Group and Braun Valley Associates.
As the largest Canadian owned staffing organization, Agilus has a deep understanding of the country, regions and local markets it serves. Agilus' knowledge of work trends, challenges and opportunities makes Agilus uniquely capable of leading better outcomes for employers and the workforce in Canada. Agilus provides work solutions across all skill sets and industries: Engineering & Technical, Information Technology, Office & Professional and Light Industrial.
Craig Brown, CEO of Agilus, notes that today's workforce and employers look to us for connection and direction. "We know, more than ever before, that the balance of work+life™ is changing and broadly defined. Our Agilus colleagues are unstoppably curious and understand that connecting people with meaningful opportunities creates better possibilities and better outcomes for everyone," says Brown.
The Agilus promise is to be responsive and dependable, recognizing that clients have business goals to meet. A pragmatic and down-to-earth mindset in dealings with clients and candidates, so that all parties know where they stand, Agilus will lead a connected, forward-thinking work community.
Agilus looks forward to working closely with their client communities to help identify and develop workforce management solutions to meet today's unique and demanding business requirements.
-30-
About Agilus: Headquartered in Edmonton, Alberta, Agilus employs over 275 recruitment professionals who place thousands of qualified candidates every year. With 20 offices across Canada, Agilus offers national reach and local knowledge. www.agilus.ca