| | |
| --- | --- |
| Position Type: | Full-time |
| Location: | London, ON |
| Date Posted: | Mar 19, 2020 |
| Experience: | 1 Year |
| Education: | High School Diploma |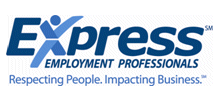 Job Description
Inbound Service Desk Representative 
Full-Time hours!
Express is currently recruiting for several Inbound Service Desk Representative roles for the afternoon shift in Downtown London, bus route accessible for an exciting full-time opportunity! Pay is $16.50
- $17.00

/hr

depending on experience.
Responsibilities of the job:
Answering incoming calls and help with any billing/customer service issues

Troubleshoot technical issues with customers' internet

Make outbound calls as needed for customer follow ups

Respond to inquiries using excellent communication skills both written and verbal

Gathering data and entering it into internal databases with a high level of accuracy
Job Requirements:
High School Diploma or Equivalent required

–

related

post-secondary would be preferred

Minimum of 6 months of call centre experience

or similar

Strong sales and customer service skills

Technical knowledge/experience with internet technology and troubleshooting would be preferred

Strong command of English language, both verbal and written

Solid computer skills and typing speed

Clear criminal background check required

Must be available for two weeks of training on the day shift
Why Work for Express:
Express is a leading Staffing provider in the London and surrounding area who has been in business 40 years. The tenure of our internal staff is 10 years, so feel confident that we know what we are doing. Let us be your stepping stone to a new opportunity!
If this position doesn't sound like the right one for you, no problem, we have lots, so be sure and connect with us to learn about what else is available or to share with us what specifically would interest you.
How Can You Apply?
We thank all applicants, however only those in contention for an interview will be contacted.
After We've Placed You in Your Dream Job, Remember to Keep in Touch!
Visit us on Social Media Platforms:
To keep up with our open jobs, visit our website: www.expresspros.com/london, Like us on Facebook: www.facebook.com/expresslondon, Follow us on Twitter: www.twitter.com/expressprosldn
For a complete listing of all open positions, visit https://www.expresspros.com/londonon/job-openings.aspx
Express Employment Professionals is and equal opportunity employer and are committed to fair and equitable recruiting practices. Persons with disabilities are encouraged to come forward at any stage of the recruitment process to request accommodations, if needed. Members of our team will consult and create processes that provide individuals with disabilities the best possible recruitment experience.